After having enjoyed ourselves all summer long, the moment has arrived to get cozy and make the most of our time at home. Find your latest additions to create that comfy and welcoming nook you deserve. Here you will find all the essentials you need to upgrade your home. Take note!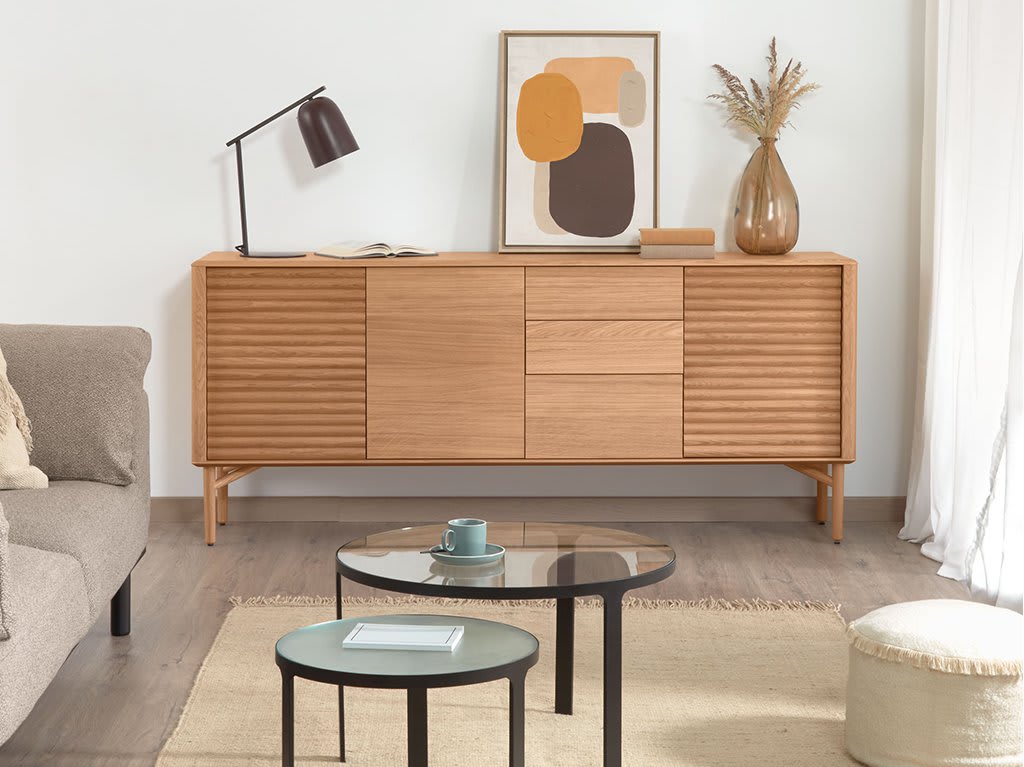 Sustainable oak wood for your cozy nook
An exclusive collection designed by Carlos Guijarro, for Kave Home. Designed to add an authentic feel to your home. Made in Europe from oak wood, the unique design is visible in every corner of these items. They are made following ethical and social principles. The wood is derived from sustainable forests and controlled felling.
Perfect for any style. The Lenon is designed to help you efficiently distribute your space. Thanks to its dimensions you will be able to make use of every inch and create more storage space.
This fall is your chance to take your living room to the next level. Choose a versatile collection, which combines with any interior style. A safe gamble: White accessories and natural fibres.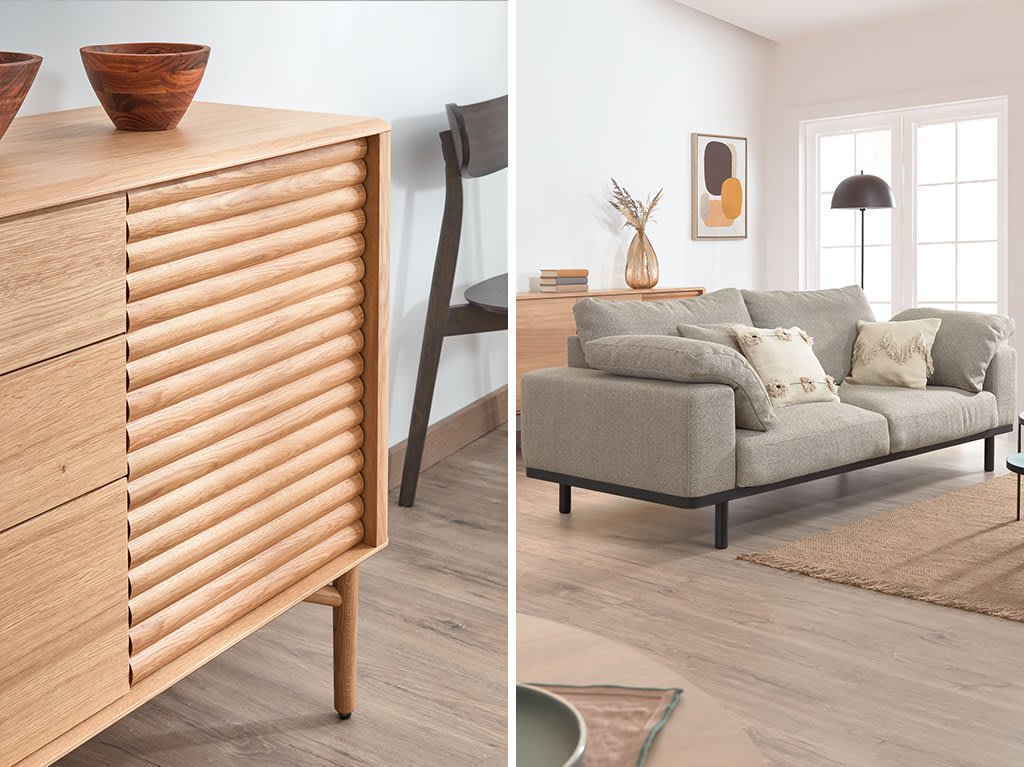 Scandinavian style living room
Less is more, right? You will love these comfy sofas. Their design with straight lines and neutral tones are hard not to fall for.
Meet the Galene sofa: Modern and functional
Galene stands out for its comfort. Thanks to the smooth and soft fabric. The secret? Thanks to the down effect you will feel like you're on cloud nine. Don't forget about the chaise lounge option.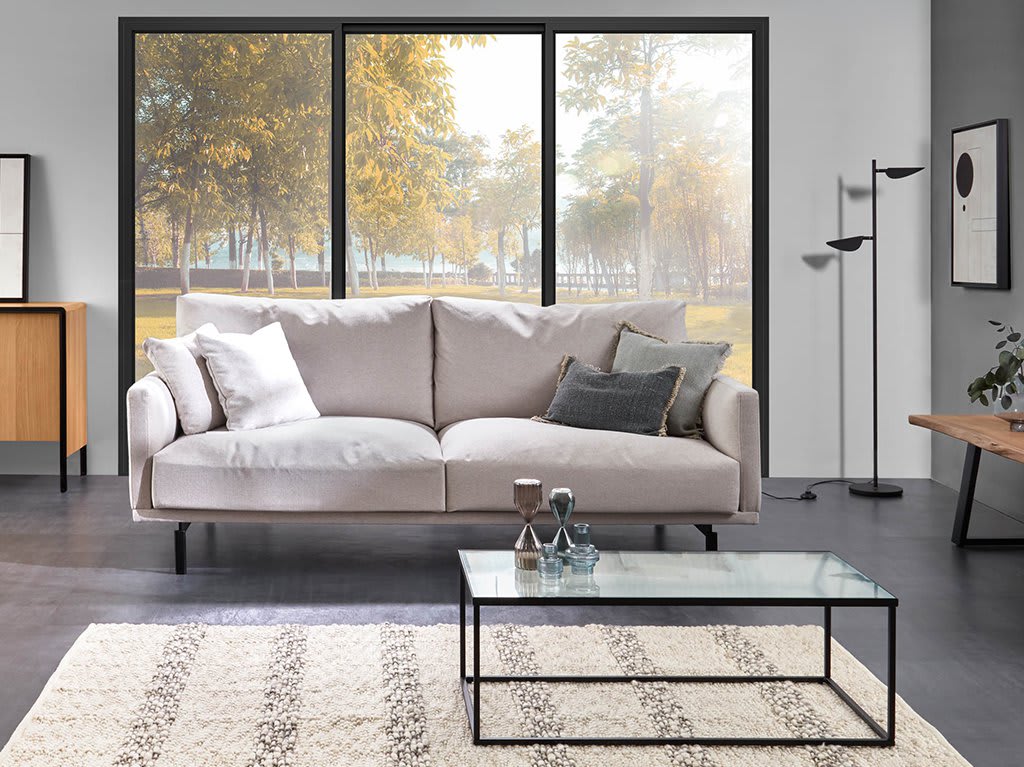 Meet the Noa sofa: Minimalist and comfy
Noa brings minimalism to life A piece that unites high quality, unique traits and brightness. The seat and back, besides having a removable cover, also have a down effect filling that will make you relax in a second.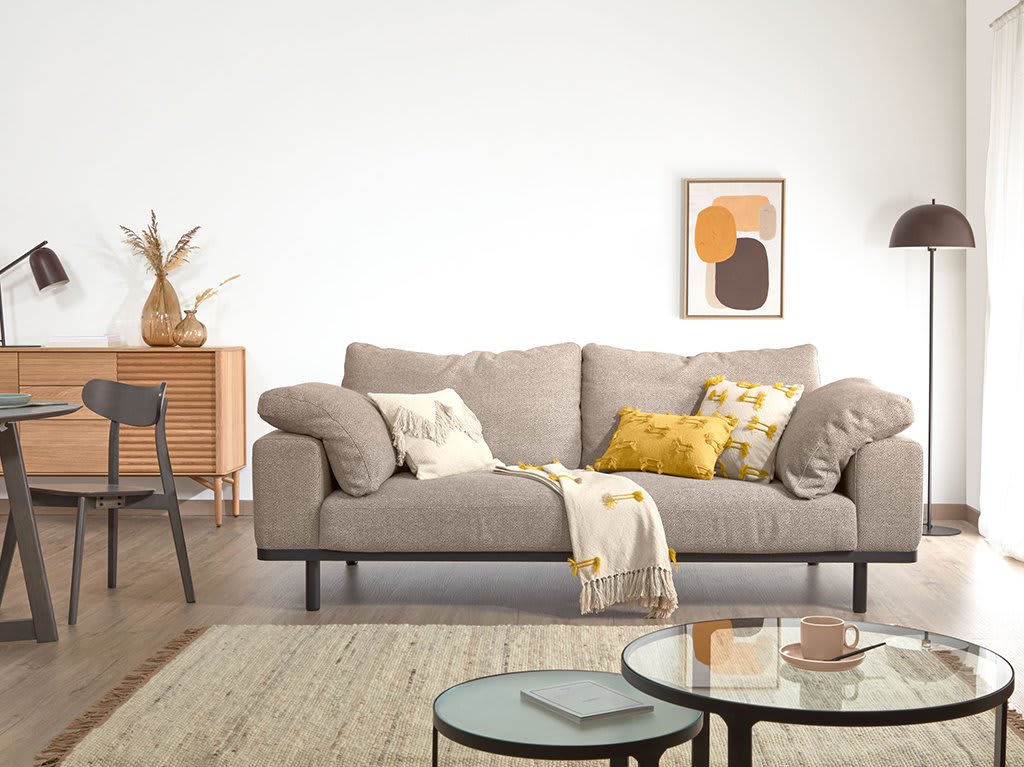 Your very own home restaurant
Under these new circumstances we tend to eat and celebrate more at home. At Kave Home, we want your dining room to feel like your favourite restaurant. Feeling comfortable in your own private space will allow you to enjoy your meals to the fullest. Take note of these tips!
Minimal style for your dining room
If you want a new table to save space while having room for your guests, we suggest our Atminda. Extendable & with a porcelain top. For a more minimal and functional environment, combine it with accessories in the same tonalities. We love the grey Alve chair.
If you prefer round shapes, the Vashiti extendable glass table with a satin finish is just what you need.
A natural style dining room
If you love neutral tones and natural materials we suggest you check out the Maryse extendable table, made from oak veneer and solid rubber wooden legs. Ideal for every occasion and you can fold it on both sides Want to know our secret? Combine it with the Safina chairs, made from recycled materials.
Create the designer dining room of your dreams and make every day special.
5 essentials for a Scandinavian style bedroom
A great bed. Transform your bedroom into the ultimate relax zone with the new Shayndel bed. A combination of materials and textiles that will give you inner peace.
An original bedside table. Keep all your essentials close by with the Wari table. Part of our Kave Cares line, designed to fit any style.
A warm and smooth rug. Add a welcoming vibe with a warm and smooth rug. Our secret? Choose a solid colour rug or with geometric patterns, you'll love it.
A big mirror or some frames. Brighten up your room with a mirror. Give your room an elegant and stylish touch with the Nerina. Hang up a nice picture, a painting or tapestry to decorate your space. Remember, less is more.
Stylish cushions and blankets. A Scandinavian style bed wouldn't be complete without some extra cushions. Mix & match fabrics and colours, keep it neat and simple. Add a blanket in a neutral tone to complete the look.
And that's not all: Discover the new bed linen collection that will bring your bedroom to the next level.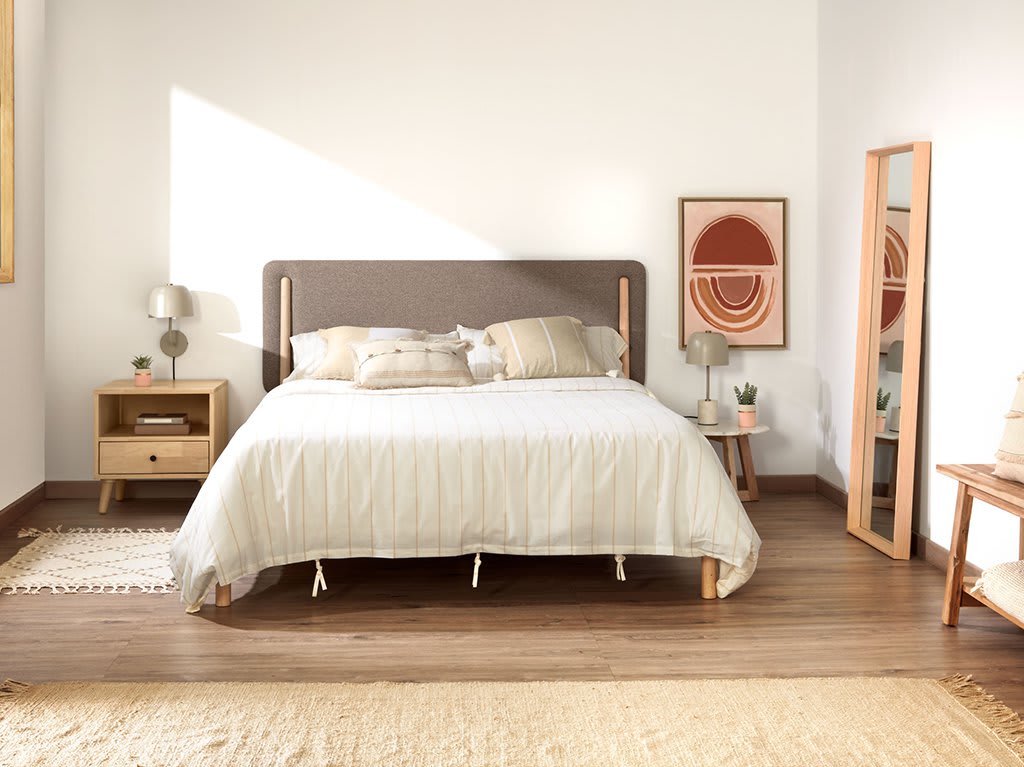 Are you as excited as we are about this autumn? Thanks to The Comfort Zone collection you will never want to leave that book. Take your time, take care and fill your home with these exclusive designer items.
15 Sep 2020, 10:14 p.m.