Discover the new collection to put the finishing touches to your home this season with designer pieces.
Natural fibres are on trend and your home deserves to be that temple of rest and disconnection. This collection brings us closer to the most beautiful interiors where you can share a good meal, bedrooms to relax in, outdoor mini breaks, and above all enjoy the pleasure of doing nothing more than being at home.
With Naturally Handmade we show that natural and handmade items are stronger than ever, and in this new collection we reinterpret traditional materials to create unique design pieces. We want to be part of your home, but in a responsible way and with an awareness of what is truly worthwhile. We dare to mix different materials, fabrics and colours in the same room. Create your own style with a natural essence and very rustic touches.
The natural is more fashionable than ever
From the Rexit furniture collection, which is contemporary and trendy for your dining room, living room and bedroom, and of course handmade. To corner sofas, such as the Blok, for large spaces, as well as organic textiles for the bedroom and pieces that will make your home a unique and vibrant place. A relaxed and soft colour palette where beige is 100% predominant.
The idea of this collection is to reinterpret old pieces with updated designs and to mix different styles in the same room. Come and discover the whole collection we have designed for you, where the natural is more fashionable than ever.
Rattan, mindi, teak, leather, jute, cotton and wool are just some of the materials you will be seeing this season.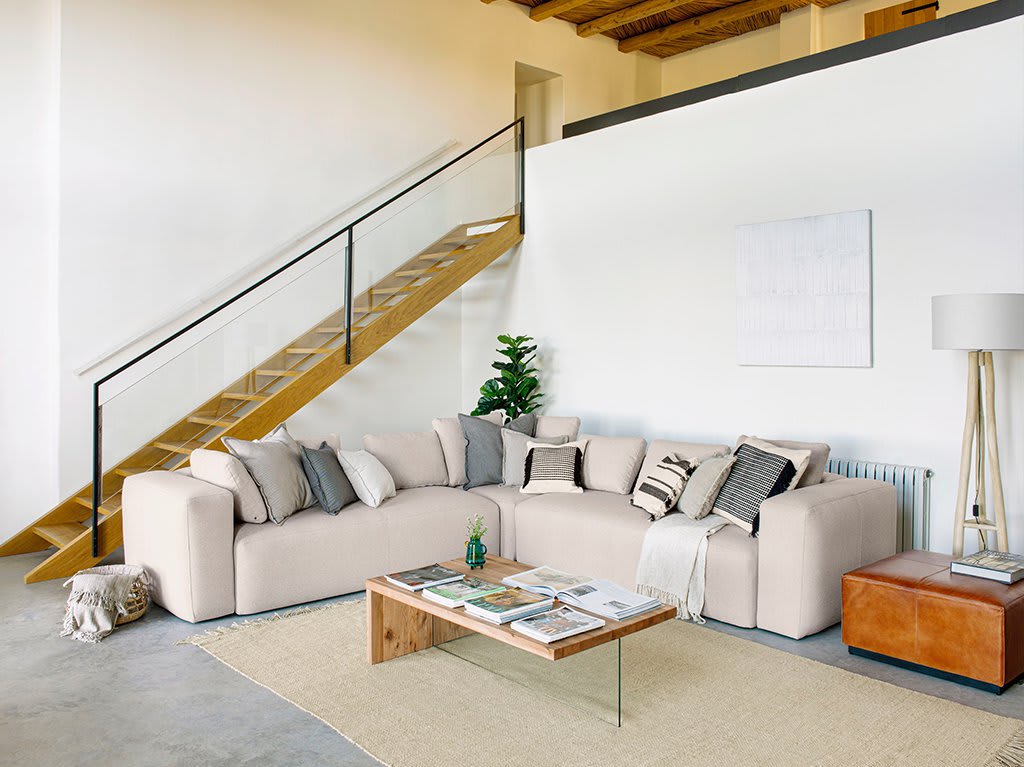 The lounge that has everything
A unique space with timeless pieces where youu can spend many hours. From solid wood, braided rope, natural leather and seasonal textiles, mixing styles and materials is a bold move with a lot of character. But most importantly, your living room should have handcrafted and 100% natural pieces.
Wood and glass. The winning duo to make your coffee table the focal point of your living room, featuring an exclusive design with unique and unrepeatable tones that characterise each piece derived from its own materials.
We focus on making the most of the materials we use. For the Cesia collection we recovered buffalo hide and recycled it to use it as upholstery in an ideal piece for your entrance hall or bedroom, while adding style and reducing the amount of waste.

Size does matter: XXL sofas
We always say that the living room is the place we spend most of our time in. Therefore, having a sofa like this means having everything in one: comfort, style, easy cleaning fabric, and a space to fit the entire family (320x320). Our Blok collection grows with this new corner size and is available in three colours. We provide you with the sofa and you take care of the space.
The textiles will add a lot of personality, whether you choose finishes in terracotta tones or black. Always opt for pieces in beige tones for natural atmospheres.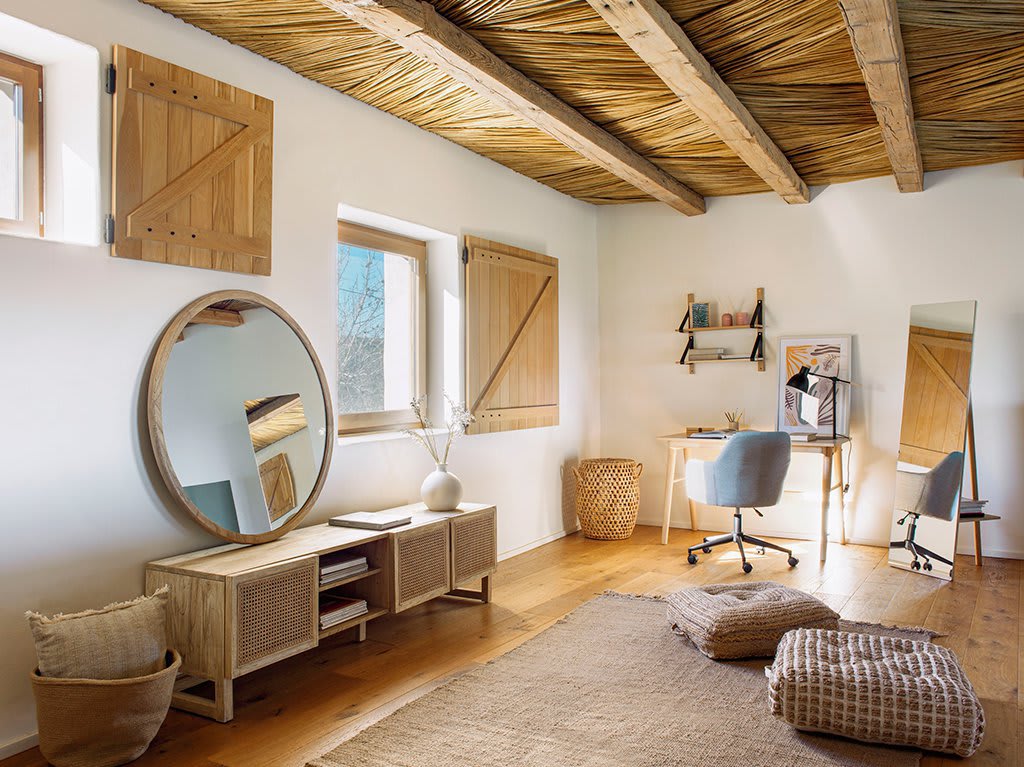 Sustainable and responsible pieces
We are responsible towards the planet and that's why we are aware that your home should be too. Add accessories such as vases, pictures or accessories that are made a 100% out of natural materials.
The Colomba collection consists of serving baskets as well as this planter. Made from hand-braided water hyacinth and solid acacia wooden legs, you will get a natural look in addition to the one your plants give. The materials used to make this piece are biodegradable, leaving the planet free of extra waste.
And of course you can add greenery to your rooms with plants!
Details that make a difference
We know that having versatile spaces from a hall, a living room, or even a guest bedroom is more than necessary. That's why we are committed to making a difference with these pieces, no matter what size they are.
The Alum mirror collection, which is available in three sizes, is made of solid mindi wood, a noble and 100% natural material. Each Alum is exclusive, with unique tonalities and grains derived from the wood itself. The wood used in this piece comes from sustainable forests and is harvested in an environmentally responsible way.
The Saian blanket made out of 100% cotton is a must-have for your moments of relaxation and the perfect accessory.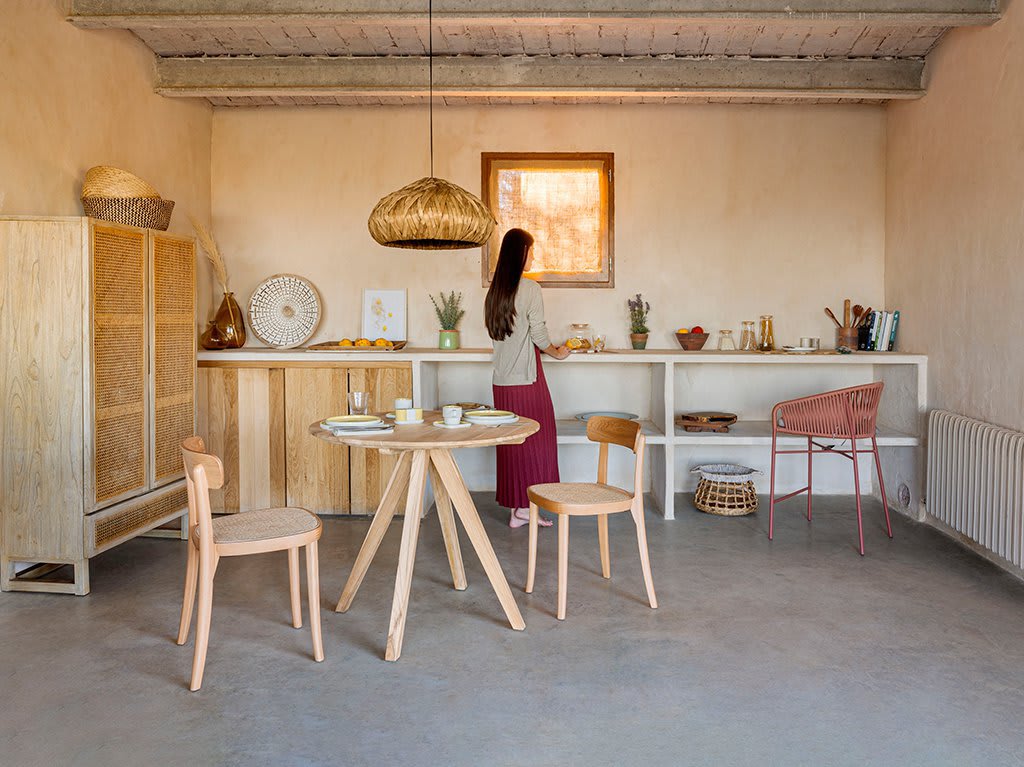 Share your meals in style
Nothing like being able to enjoy the small pleasures in life with your loved ones. Put a table in the kitchen and you will see how life will be filled with ease from breakfast to dinner.
Extra space in the kitchen? Yes please! The Maial table is the ideal piece for any space, no matter how small. Made from solid teak wood, with shades that maintain the brightness and spaciousness of the room. Thanks to its round shape, you can make the most of every corner of the room.
Try the Romane chairs in solid wood and natural rattan, a comfortable chair for those long after-dinner conversations.
Naturally this is the most desirable interior that brings you one step closer to enjoying your home. Discover all about Naturally Handmade.
11 Feb 2022, 12:48 a.m.