If you love traveling you probably already know Hayley Andersen (@haylsa) and Kyle Hunter (@kyle_hunter): travel photographers and content creators based on the Gold Coast, Queensland.
Hayley always knew photography was her passion; when she finished her studies, she decided it was time to pursue her dream. She and her partner Kyle, started traveling the world together with their cameras, learning how to capture and edit their own content. Even after years of exploring over 35 countries, their hearts are still at home, on the Gold Coast.
Hayley and Kyle recently bought their first home and have enjoyed making it their own. The spot they were most excited to decorate was the balcony. They love starting the day soaking up the sun with a cup of coffee, so it was essential to create the perfect outdoor nook. Kave Home helped decorate their outdoor space with the Mareluz outdoor set, Jenell coffee table, the Taimi side table, and some decor pieces. We sat down to chat with the duo about creating a sanctuary for when they come home from traveling.
1. What inspired you to travel and do travel photography as a full time job? When did you start?
K: Back in 2015, we bought an old Ford Transit van in Scotland. We just traveled all through Europe and from there learnt photography and videography.
H: We just wanted to experience different cultures, and we weren't looking for the everyday norm kind of life. I had this desire since I was younger to travel. We saved a lot of money and went full time traveling. Since then, it kind of eventuated in a full time job. We love it.
2. Does the saying "home is where the heart is" resonate with you more being a travel blogger? What does 'home' mean to you and what do you look forward to when you come home?
H: After we traveled for a couple of years we started to really appreciate home and felt like home is where the heart is. Before that, I just didn't appreciate where I lived, Australia and the Gold Coast, and now I love it. It's so nice to come back here. When we are not working, we are just relaxing. It's such a nice, slow lifestyle at home.
K: I think because we travel so much as a job, when we do come home, it feels like a holiday to us. We can just unwind, be together, cook dinner, watch TV, and just really, really relax.
H: We actually tell everyone now, they are like, 'How was your holiday?'. And for us, the holiday is being home.
3. What three words would you use to describe your interior style?
H: Three words I would use to describe our interior style are coastal, because we live on the beach and it fits our vibe, casual, and bright.
4. Are there any countries or cities that influence your interior style? Especially your outdoor area?
K: I think the place that inspires our style most is the Mediterranean for sure. We spent a lot of time in Greece and Spain. I think the pieces that we have chosen really resonate with those places.
H: Yeah, we are really inspired by Europe. It's our favourite place.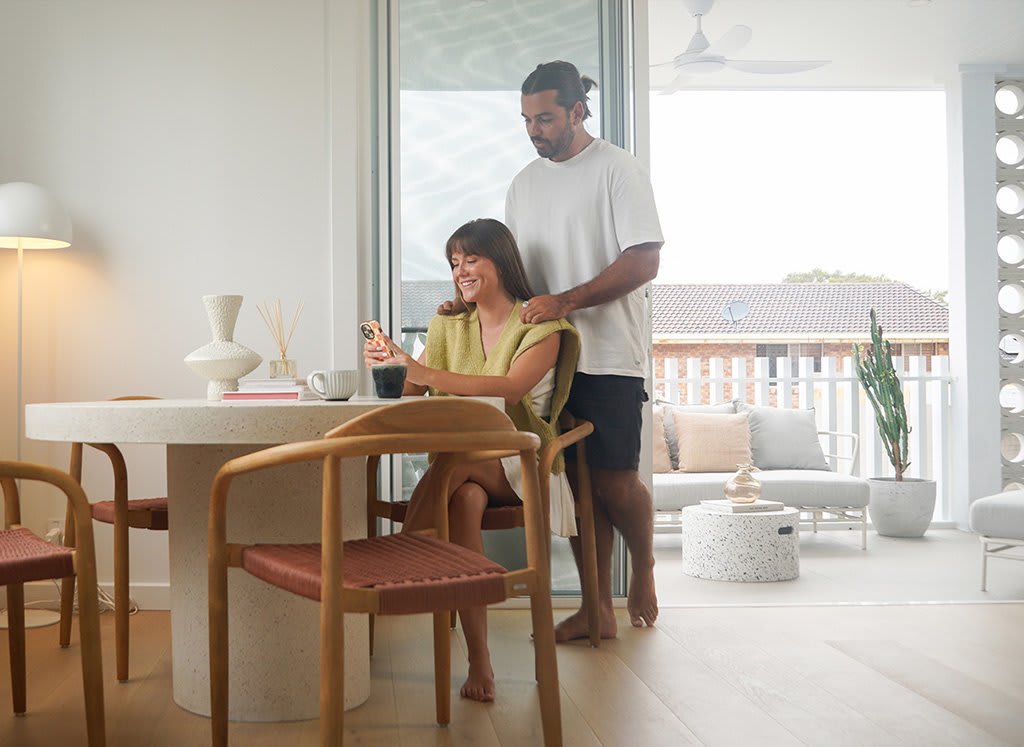 5. What is a non-negotiable for your home?
K: I think a non-negotiable from my standpoint definitely is the outdoor space. Somewhere where we can sit outside, relax, have a coffee or a beer in the afternoon.
H: We like having people over, entertaining, and having somewhere comfy and cozy to sit.
6. What do you like about Kave Home?
H: We chose Kave Home because it really suits our style, the coastal-Mediterranean theme. They are also a sustainable brand which we really value as well. We like brands that work towards sustainability.
K: We were super stoked with the delivery experience as well. We opted for the White Glove service, we are obviously very busy and the guys came here, set everything up, took everything away with them, it was really good.
7. What's your favourite piece from Kave Home?
H: We chose the Mareluz outdoor set: the sofa and the two armchairs, and we chose it in the grey and white so it would go with the coastal theme.
K: And we chose the Jenell side tables that would sort of fit this space as well, obviously grey and whites, which suit what we are going for here perfectly.
8. What do you value the most in your home?
H: Having a space that feels really ours, quite homey and comfortable, it's really important to us, especially for our work space, when we are at home working. It makes us feel more motivated and inspired to sit down, get our work done.
K: Especially if we can get up early in the morning, go for a walk, come back here, have a coffee on our balcony. Just take it all in and get started with our day.
Shop their favourites here!
15 Nov 2022, 12:24 p.m.