Fill your outdoor space with personality with this collection aimed at the boldest design fans. Made from natural materials with new colour palette in terracotta tones, your furniture and textiles are ready to take centre stage this season.
Featuring terracotta, terrazzo, rope and PET, all the materials used in this outdoor collection are big, eye-catching trends. It's designed for fashion-forward terraces and gardens where pops of colour add interest to open spaces – because your home should be as well-dressed as you. To curate the perfect home for a relaxing weekend, or even a whole summer, the secret is mixing and matching.
When it comes to enjoying the fresh air, nothing beats hand-crafted designer furniture made from natural, sustainable materials. Choosing your favourites won't be easy, though. Terracotta is a mineral-based mate rial and the hottest colour for your outdoor space, classic terrazzo is back in the shape of new and 100% Mediterranean designs, while the rope has been woven using traditional craft techniques and is resistant to UV rays. There's also the PET used in our rugs and cushions – this eco-friendly material is made from recycled plastic bottles.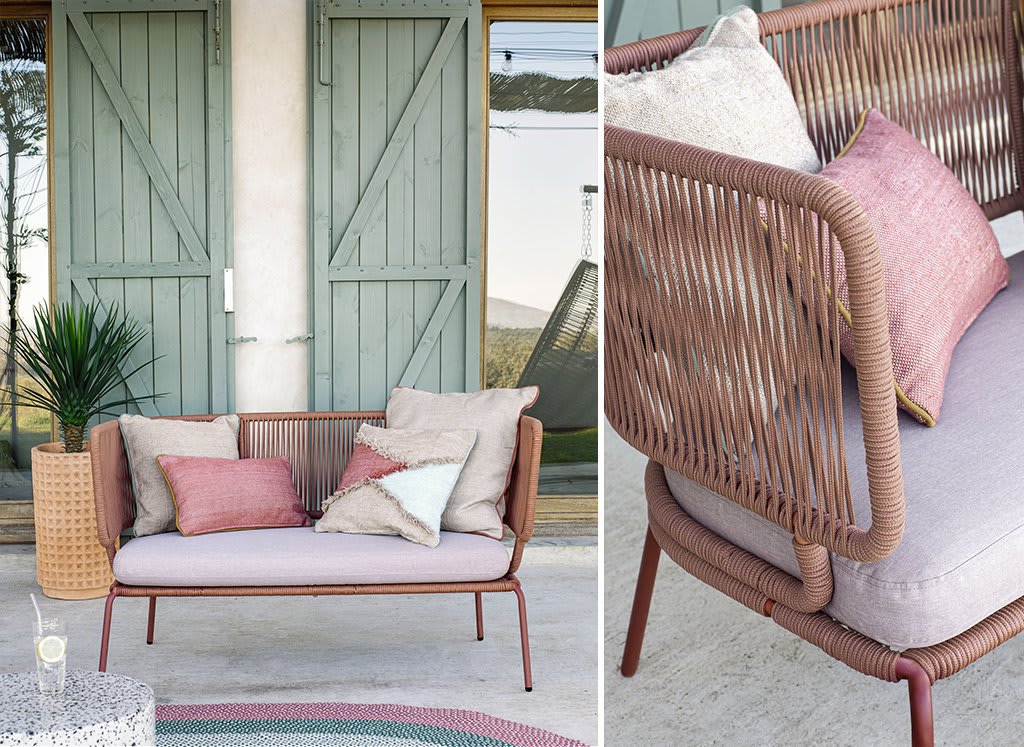 Disconnect to reconnect
This is one of those dreamy terraces full of original pieces in a colour that brings the garden, pool and spectacular views together. You're going to want all of it! Bring your outdoor space up to the minute with this year's biggest colour: terracotta. There's no doubt about it: a hanging chair like this one will add plenty of character to your summer living area.
Outdoor rugs are a must-have, especially when they're made from 100% PET, recycled plastic from bottles recovered from the ocean. The colour and round shape make this an easy way to bring style to your space and is perfect for your home and the planet. What's more, you can complete the look with the cushions from the collection, designed for 100% outdoor use.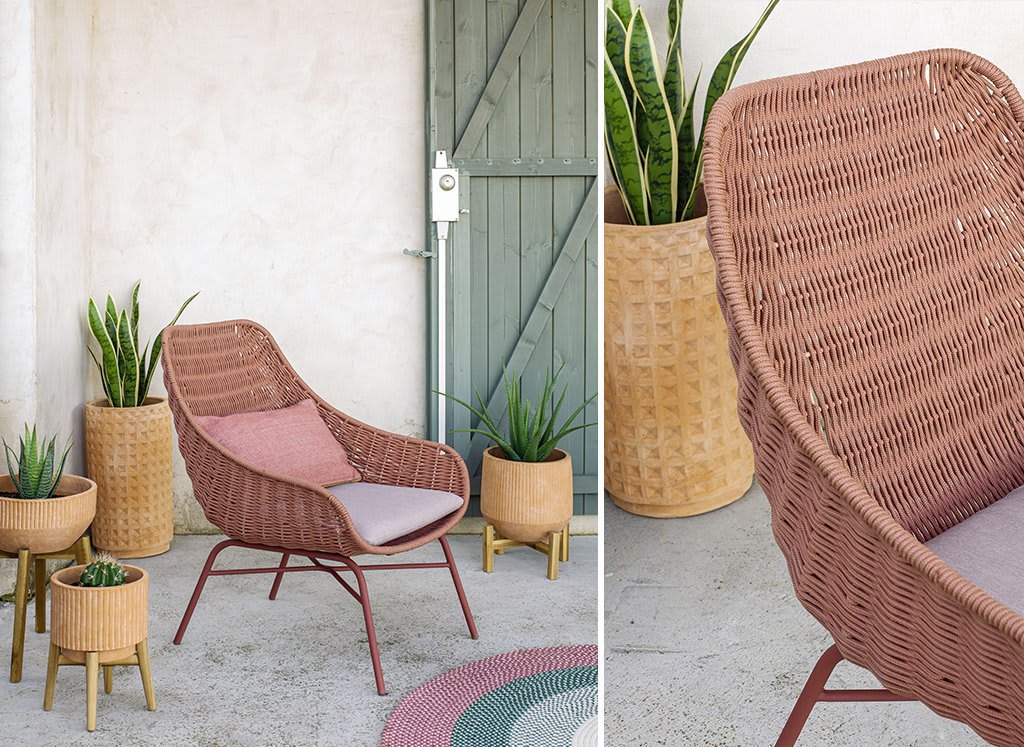 A relaxing hideaway
The Abeli armchair is designed with your relaxation in mind, either indoors or outdoors under cover. Add style to your spaces with materials like this rope and its cool, current colour. And, of course, you'll need some planters with different heights to give your plants a fitting display.
"Terracotta is a sustainable material with a small carbon footprint, and the best part is that it's recyclable and easy to bring back into the loop" – Jordi Díaz, designer of the Outdoor collection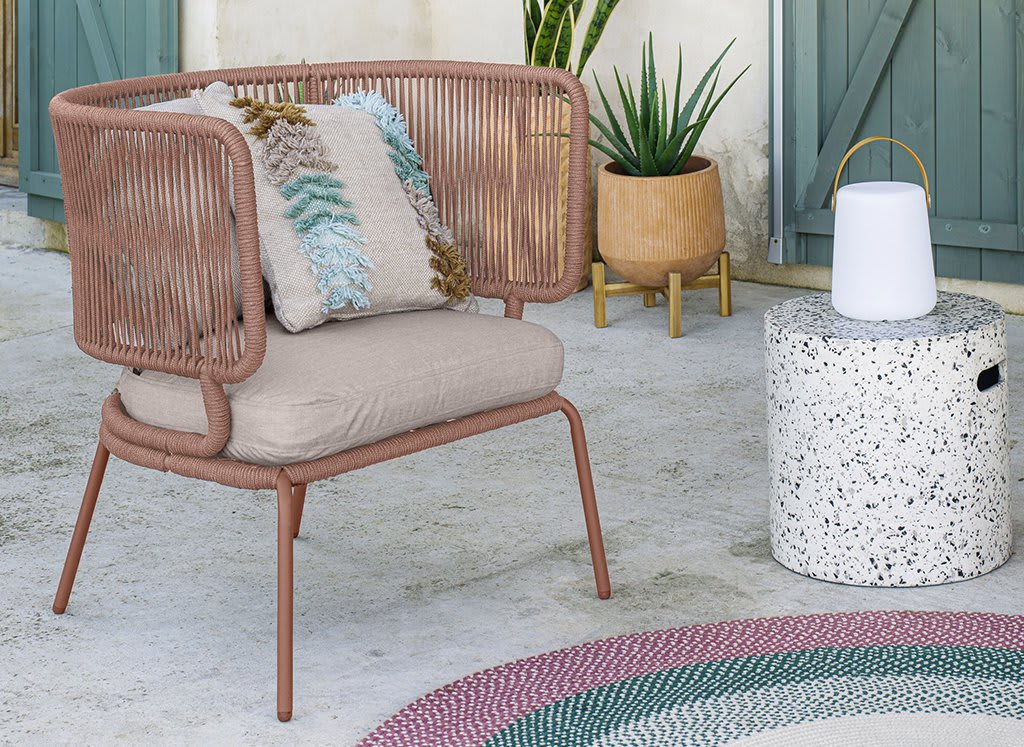 The joy of the great outdoors 
Nadin has been designed exclusively for Kave Home by Tapio Antilla, with extra authenticity courtesy of the hand-woven rope that forms the backrest. Suitable for use indoors or outdoors under cover. Our terracotta planters are moisture- and UV-resistant. Made from a mineral-based material with a wooden stand to give your plant more sunlight, these planters add a natural look to any space. The best gardener for your plants: with our terracotta planters, they'll be in good hands.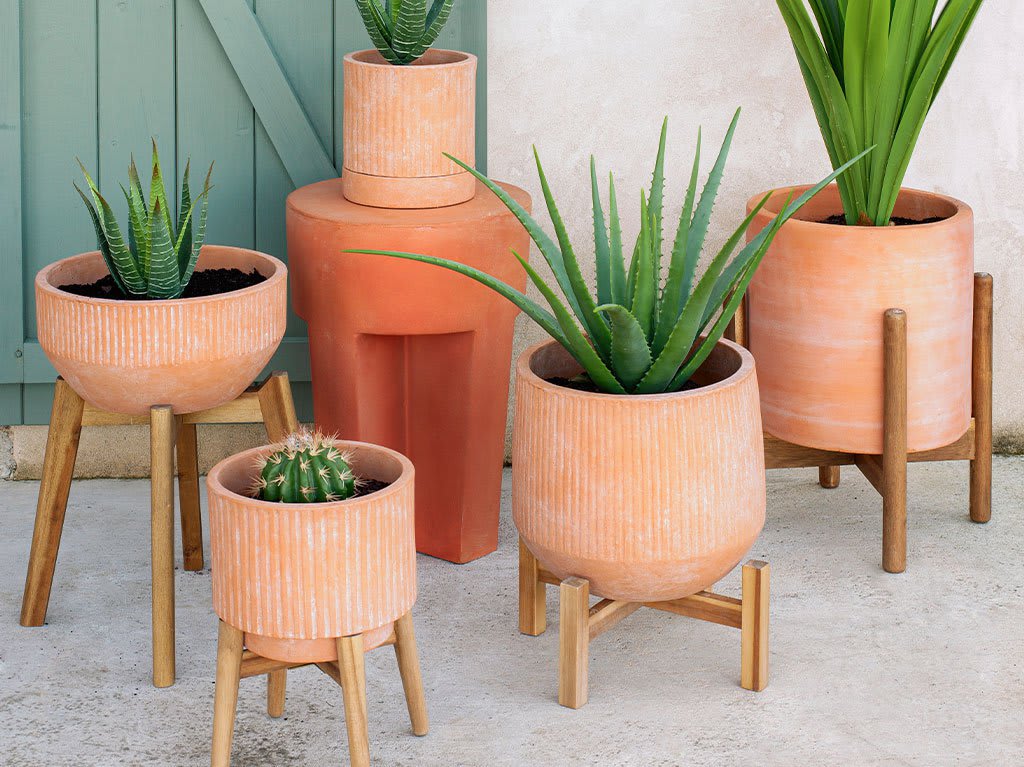 Terracotta and plants!
The Celi or Karlina sets are some of the terracotta planters in our collection. In addition to highlighting the colour of the flowers, terracotta is also a material that blends with the environment, ideal to show off in outdoors.
Did you know that it also takes care of plants? Being a porous material, it absorbs excess water that plants don't need. Can't be bothered to water them? No worries, the Luigina terracotta pots have a self-watering system to help you out.
26 Nov 2021, 1:45 a.m.